Guy Rafferty has a little tale to tell…….
Meandering around the South Downs on some new roads and familiar hills……
A great start with a sweet espresso at Chez Wadley (thank you Lyn!) after the warm up ride from home. Cloudy skies soon gave way to blue as the temperatures rose (up to 25C). It didn't take long before we found the www.bikehike.co.uk routing tried to send us along an off-road section (prompting memories of various 'special off-road sections' on continental rides, so good training!). We set off again having found an alternative route, but a few miles down the road on a gravel-strewn downhill near Lower Upham, Chris Gordon (a welcome 'honorary IL rider' for the day) and I punctured, and in the shelter of the hedgerows we realised how warm it was getting! We caught up with the main group at The Beech Café on top of the South Downs at HMS Mercury. There was a much-needed re-fuel with their infamous hummus sandwich and a flat white. Time was marching on, so Mike left before our food arrived, leading the first long-ride group and leaving our "lantern rouge" group to bring up the rear. Despite Lionel's turn to puncture, we caught up with Mike's group at the next café stop, the Compton Village Shop & Tea Rooms, just after the climb over South Harting Hill.
They had an excellent selection of quality cakes, including a very refreshing lemon sponge sandwich, with a thick layer of zesty butter icing.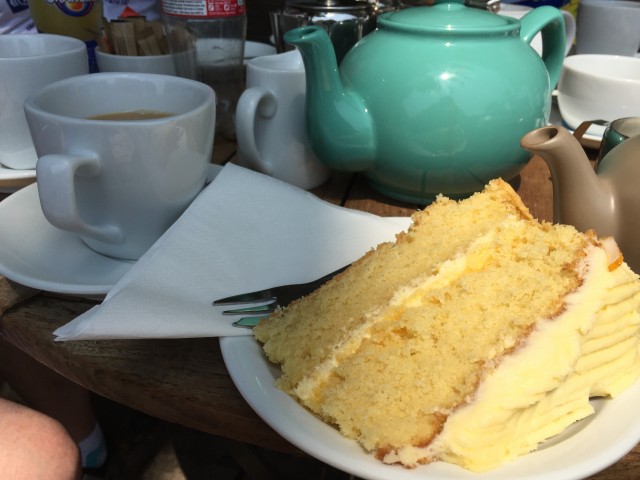 With the bottle topped up with ice cold Coke, onwards we went! It was relaxed riding, with great company and lovely views on the homeward leg. A welcome shower and much-appreciated barbecue awaited back at Chez Wadley base camp where a good time was had by all.