You have probably heard through the grapevine that a 2016 Inspired Living continental ride is in the planning. We would now like to invite cyclists to register interest in joining the ride so that we can establish the required logistics and make some provisional arrangements.
The proposed ride highlights are as follows: (click on image to enlarge)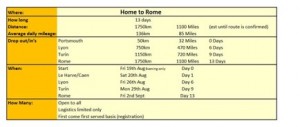 If you are interested in joining us, please send an e-mail to Barbara Brown at the following address: b.brown@thornden.hants.sch.uk
The process will be:
• Rider to confirm their interest in joining the ride: Close date 26/10/15
• Firming up of the ride route together with the logistics of hotels, support vehicles etc
• Establish a budgetary cost per rider: Targeted for 1/12/15
• Rider to confirm wanting to join the ride: Target window 2/12/15 to 31/12/15
We hope you can join us and that we can arrange the required logistics to support us all.
If you know of anyone else who would like the opportunity to join the ride, please forward this note to them. Although we are likely to need to limit numbers because of logistical constraints, we do wish to attract new riders and raise even more funds for CRUK.