Here's a pic of the group at the end of Cycle4Life in Victoria Park. They had just finished loading the van ready to head for the ferry to France: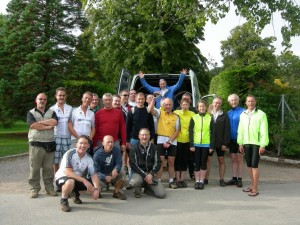 Day 1
We got off the boat at 08.30am after a reasonable night's sleep although there were a few moans and groans! After getting ourselves sorted out we started the ride to the South of France.
It was immediately clear that Satnav users needed lessons as we had multiple issues of getting lost and having to back track because of missed roads. However lunch was brilliant. In Plelan le grand, a really beautiful little village, on the route 50 miles from the start, David Lane and Hannah Rafferty materialised with French loaves, cheese, ham and masses of other delicacies. It was truly a feast!!!
David has been a real rock organising the support with military precision. Hannah is just a delight and has been brilliant rushing off to get provisions.
We eventually battled our way down to Redon for our first stop of the ride.
The riders were all in good spirits but there was concern for Jamie who had a really bad stomach bug and a very difficult night followed. Otherwise there were no casualties and everyone is in good spirits.
Day 2
We again got started early at 09.00am and sped out of Redon. Andy Browne, Phil W and myself, (I was just checking that the other two did not get lost!) sped on to the lunch stop at 50 miles in Viais without stopping for the morning drink stop, because we were too early, arriving at lunch an hour before the next ride at an average of 18 mph. However the 'Apple Turnovers' in the local Bakers were a joy!
Jamie Wadley was still suffering from the stomach virus and was unable to eat all day. However he did come through the day in one piece and we are all hoping that he will be much better tomorrow.
Lunch was again brilliant with an even greater array of delicacies. I felt particularly bloated after lunch and Scott and I ambled along contentedly to the the end of the stage at La Roche sur Yon with Jamie.
We did however get our first taste of rain in the final few miles but it was not torrential.
Day 3 – Roden to Royan
We set out this morning in the dry but with rain threatening. We got to Champagne country for morning drinks and actually went through the town of Champagne around 20 miles before reaching our destination this evening at Royan. At lunchtime we met at the pre-assigned location in the rain. It was really miserable but by the time we stopped for tea we were basking in sunshine !!! Rugby League player Andy, was keen to show off this well tuned body and when we finally saw the sun this afternoon he received the admiration of the local ladies !
Tim Frank told me that he was really happy that everyone was going so well and that we have had so few issues. He also send his best wishes to everyone reading the Blog for their support and continued interest.
I can also report that James Wadley has got over his stomach ailment and rode well today.
Lunch was again amazing and I think that everyone is putting on weight during the trip. Lyn's Jelly babies are also in great demand.
Tomorrow we take the Ferry at 09.00am to get to the peninsula and then we have a 165 km ride to the next stop west of Bordeaux.
Day 4
We started really early with the van being packed at 07.00am. Breakfast at 07.30am as we rushed for the 09.00am ferry arriving at 08.30am to find that it was scheduled for 09.30am !!!
We are now standing around waiting for the ferry to open so that we can get across to the peninsula and tackle the Day 4 105 miles to south of Bordeaux.
Today is the last day's ride for 10 of our team. Ian Fraser who has driven the second vehicle has been a real diamond supporting us all getting provision and in particular Apple Tarts !!!
The other riders on their final day are Phil Wakelin, Jim Halliday, Mark Rickenbach, Guy Rickenbach, young Liz Flesher who has ridden really well and enjoyed the event with her father. Also leaving us are Mike Mclachlan, Guy Poppy, Pete Langley and Paul Howell. There has been a very good atmosphere on the trip so far and the ten will be missed by the remaining 25.
As I have a little time to blog I must say that no-one has shown any real signs of difficulty. Caroline rides steadily each day and I suspect she is a lot stronger than some of the men. The test for all of us will clearly be when we hit the Pyrenees. The youngsters Andy Hore, Joe Allnutt and Rob Prow happily sing along and are clearly enjoying the ride. Normand and Pam are clearly competent and enjoying the challenge. Mike Spencer is in a management role and organising everything and everyone !!!
James Wadley has his stomach problem returning with a vengeance so we will all have to check his progress. While today is a very long ride it is not a hilly course. In fact it is the flattest day of the journey so we should all be okay.
David Lane and Hannah Rafferty are still a brilliant team and the support operation is smoother by the day. We all thank them for their support and enthusiasm.
We are now finally on the ferry making our way to the start of Stage 4.
Just to go through the group, Guy Rafferty and Lionel Jones are both riding very well and obviously enjoying themselves. Tim Frank is in his element while Andy Brown is leading the ride each day through fields in some instances where the sat nav has directed us down un-ride-able roads !!! Tim Stevens is getting stronger by the day. Stephen Pipes is both strong and the technical support for our GPS system which while still not working is undergoing re-newed efforts to get it working. The Smart phones are really not hacking it but the Motorola satellite phones should provide the solution and we are working with the software house Kirona to get them working. When we are successful we will provide the link on the Inspired Living website. Neil Flesher is supporting his daughter but relishing attacking us all in the mountains!
David Pope, Barnaby, Pete Horsnell, our oldest rider but you would not think so riding with him and Mike Spencer are all very happy pushing on to the mountains. Ian Larner is also a very strong rider and the fourth BT person Scott Dryburgh is riding well.
We set off with Guy and Mark Rickenbach and Pete Langley setting the early pace to the tea stop. They were joined by Phil Wakelin and myself, Andrew G, and then by Andy Brown and Tim Frank.
After the tea break Tim, Andy, Phil and I set off to try to break an average speed for the ride of 20mph. By lunch we were on target. But arrived only a minute or so in front of the Rickenbach's and Pete Langley who were really flying.
Arriving at Le Ponge we were met by Hannah Rafferty in cycle short and a team shirt ready for a modelling session, or so we thought, until she pulled out a bike from the van and pedalled off for the last 50 miles of the day !!!
The afternoon saw the 4 leaders taking turns to take the pace and fighting an unexpectedly strong headwind and eventually arriving at Biscarrosse at an average speed of 18.9 mph. The Rickenbach's and Pete Langley continued their great form and were joined by Scott Dryburgh who is improving daily.
Everyone did well and all the team arrived within 45 minutes of the lead 4. The good point was that James Wadley was also going well which was particularly satisfying for everyone.
The Hotel in Biscarrosse is really pleasant and everyone is in good spirits. Also we have got the Satellite GPS system working and we should be able to link the Inspired Living website to it by tomorrow.
The prime into Biscarrosse was won by Andy Brown who rode well all day.
A small correction for Day 3, yesterday we rode through two towns called Champagne. However we saw no vines and I am reliably told by Derek Noble that the Champagne area is east of Paris and 350 miles away from where we were !!! I blame the French for the confusion !!!
Day 5
We started from Biscarrosse at a brisk pace but after 10 miles David Pope and Stephen Pipes collided on a roundabout and then Pam, looking to see what had happened, collided with Tim Stevens. I have no map or Satnav and hence no idea where I am going. However those who do have the tools are continuously reasoning with their Garmins as though they are human and this does distract people and cause accidents.
That said I am dependent on a master of the satnav to give me directions ! I suppose that I am like a workhorse often found ploughing along at the front of the peloton at the whim of my masters !!!
Getting back to the accident, we had to straighten Stephens wheel, which was unrideable before setting off again. More importantly there were only minor grazes.
The pace was brisk until lunchtime at Hossegor where after 65 of the 86 miles we found ourselves on the beach. Guy Rafferty and Hannah had local knowledge, (Hannah spent some time here earlier in the summer) so they introduced us all to an Ice cream parlor.
The beach was too great an attraction with Tim Frank, Hannah, Guy R rushing to take a dip. Already in the water were Andy Hore showing off his muscular torso before being dunked by Rob and Joe !!! Neil F came to the same fate ! Time was however suspended when a very attractive French women entered the sea topless !!!
Lunch was brilliantly prepared by David & Hannah with dips and fruit added to a vast array of hams, cheeses, salads and French bread. With Biarritz only 21 miles away we were not in a hurry to leave the beach or the ice cream parlor.
There was sadness and we all missed those who had left us. Phil pushing the peloton along and the Rickenbach brothers and Pete Langley who were all going really well over the last few days. Ian's Apple Tarts and good humor were also missing. Paul Howell was also enjoying the riding and riding strongly but will be back for the Italian version next year. A big thank you for your contribution to brilliant first few days to Jim, Mike, Lizzy and Guy P.
Tomorrow we hit Spain and the first of the hills. The last few days have been really flat and there is good morale. Let's hope it remains into the Pyrenees !
Day 6
We set out from Biarritz quite early and almost instantly noticed a change in the house construction and the ambiance as we approached the Spanish border. We actually sped over the border without realising it as there is no border control across the rest of Europe.
The hills started and Stephen Pipes showed what he had learnt riding for the cycling Club at University. He was really strong despite not having the lightest bike ! At the first break James was complaining that he had been told that we would stop after 20 miles and not 38 !!! When told that he should be happy because he has 20 miles less to cover afterward, James retorted that it was more like a person being offered a job for £200k and finding that he had only been paid £100k.
The scenery was amazing especially as we climbed the mountain.
Immediately after the first water stop, a group of 9 formed at the head of the race. Andy Brown had already departed on his own as we loitered at the first water stop and having a photo shoot. The nine fought out the King of the Mountain prize with Rob just heading Joe to the top followed by Neil Flesher and Andy Hore. Tim Frank and I were close behind. Joe had coveted the King of the Mountain prize and started the stage in RED short and with the RED polka dot jersey already on his back. Rob clearly spoiled the day then took his jersey in the evening while Joe was ogling the three Australian girls at the Hostel we are staying in ! No expense spared !
The climb was around 20 miles long and took us to 850 metres and really tested the legs. Hannah was also keen not to miss out on the fun and took to the bike for the stage and almost beat her father up the mountain! Well not quite but she did do very well. Hannah achieved 4 A*'s and is going to University, but it is clear she would prefer the life of a full time cyclist !!!
At lunch the 9 leaders arrived ahead of the pack but still behind the flying Andy Brown. Andy Hore, Joe and Neil F played water games in the picturesque fountain in the middle of the village square in Olague. Not satisfied with splashing water out of the horse trough they proceeded for a dip in the mountain lake running through the village. The spirit was light-hearted. The team gradually arrived at lunch with Scott Dryburgh recording 49 mph on the downhill leg to Olague. James arrived with Mike Spencer, Caroline and Hannah to thunderous applause from the team. Well at least cheers.
Pam was very strong on the hills and led her group. Pete despite being even older than me at 69 years had no problems with the hills and is clearly a strong cyclist.
Before the ride it was decided that Barnaby's ridiculously flat tyres and heavy bags needed attention. We found that he carried litres of water that he could not possibly use. We stripped him of the weight and fully pumped up his tyres and without the baggage Barnaby fairly flew up the mountains.
The afternoon saw a fantastic race into Pamplona again with 49 mph being registered by Andy Hore. Neil Flesher is really enjoying the sprint series that has just started with Andy Hore, Neil and I.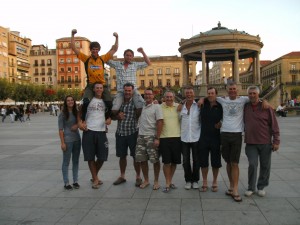 Everyone has arrived in Pamplona in good spirits and no obvious ailments. Clearly there are a few tired legs but all in all everyone is going well.
David, without his usual support from Hannah, still managed to produce a feast for us all with Melons and beetroot added to the menu.
Tomorrow we ride from Pamplona to Soria which is 168 kms (105 miles). Today we added 113 kms (70 miles ) to the total mileage taking us to a total of 524 miles.
Day 7
We started out from Pamplona at 08.00am just as it was getting light to ride 105 miles over a very hilly course with two first category climbs. Pamplona was full of people going to watch the Bull fighting at the local arena which was an impressive building. More importantly they also had the annual game of letting the bulls run through the streets. Some of the pictures of local people being gored by bulls in previous years adorned the walls of one of the bars that we visited.
The day started briskly until we hit the 'El Paso' American Bar at 24 miles !!! The group seemed incapable of restraint and stopped for a lengthy break. The building looked like a prop for an American Cowboy movie with saloon swing doors on a wood clad building (All authentic and imported from America, apparently). The group were unable to resist the temptations and had a second breakfast. At this point we heard that Stephen Pipes had not only lost his way but had found his way onto a motorway and was subsequently escorted off the motorway by the police.
Here we get to the scourge of normal mild mannered people, the 'Mapnav' !!! Despite Stephen's undoubted intellectual ability he was deceived by his Garmin into going miles off course and ending up on a motorway. Lesser mortals like me rely on the numerous 10 foot by 10 foot signs saying Madrid as we kept to the same road all day !!!!!
The story of the day was that Pam, Normand and Ian Larner who waited until 12.15 at the El Paso bar for Stephen Pipes and then battling through the day to get to the Hotel before 08.00pm. It was really good to see the group hug when they eventually arrived at 08.05pm at the Hotel. Brilliant effort on a very difficult day. Pam, Normand and Ian are all really accomplished riders and it is clear that they are enjoying the ride.
At 12.15pm 35 miles further up the road the leading riders were arriving in Cintruenigo at the 58 mile point of the 105 mile run. There we all had another brilliant lunch. We are all humbled by David Lane and Hannah Rafferty's efforts to make yet another event of lunch.
The lead group saw Joe winning the King of the Mountain prize on the first climb but being beaten by none other than Tim Frank on the second major climb of the day. But Joe retains the Polka Dot jersey. Rob and Neil were also riding really strongly in the mountains.
Lionel had another strong day but did describe the ride as boring ! This was based on the monotonous series of hills as we climbed ever higher hitting 2,000 metres for the day. Sheer pain !!! Guy, Tim Stevens, Lionel rode as a team really strongly as they have been throughout the ride.
Jamie, Pete, Scott and David Pope, Mike, Caroline and Barnaby also rode as a team and showed high fives at the finish !!! It is really interesting seeing the bonding between people when faced with serious physical challenges. Mike who organises us brilliantly had a very scaring moment today as he experienced wheel wobble coming down one of the mountains. This is a harmonics issue where the frequency of vibrations cause the bike to behave irresponsibly. Many of us have experience the harmonics and it is really scary. Mike as a tough competitor took it all in his stride.
I should not of course neglect Andy Hore who has been offered a place on the GB Olympic rowing squad but has to give up professional Rugby League. Andy is really powerful despite not having cycled much in his short life. Andy is a natural sportsman who exhibits tenacity and all the qualities of a successful professional athlete.
We are now are 629 miles and everyone is in good health and good spirits. I did wonder if Jamie had done enough preparation for the trip. He is a workaholic and had minimal time to train but his determination is clear for everyone to see and he has now passed the major challenges of the ride and is getting stronger daily. As expected Caroline is a very strong rider and is taking the mountains in her stride.
Day 8
This update will get to you late because we are staying in a charming Hostel in a really small village called Matillas. However there is no Wi-Fi and the mobile reception is also weak. Our Hostel is a really great Hotel. I have the presidential suite with a Jacuzzi. Not bad at all. The Hotel has a lovely garden but outside this charming complex is a railway station and industrial buildings. An amazing contrast.
David Lane wanted to let you all know that he broke the land speed record for a van with no windows by topping 140kph after he got lost on the wrong motorway! Another example of Satnav lunacy.
The ride started out from Soria (sore rear as it was christened by some!!!) and sped down to the road to Almazan. Unfortunately the route that we had been directed along was actually a dirt track for 10 kms. Some people followed Guy Rafferty onto the Motorway and others followed suit. Fortunately we sped down the motorway quickly before the Police caught us. That meant that those who persevered on the dirt track lost at least an hour and that meant that at lunch the difference between the first and the last rider was 2 hours.
The first sign of the motorway antics was when Andy Hore saw Guy R, Tim Frank and Tim Stevens heading down the motorway. Andy immediately jumped over the fence and sped after them followed by Neil, Rob, Joe, Scott and myself.
At lunch we stopped in a really small village called Cincquvilla. We met a really lovely lady who worked in Hamburg but was back with her parents because her father was dying of cancer. She made us coffee and tea while we waited for the van and lunch and made a donation. She was in tears when Tim Frank told her his story about his wife Marey. This village was really small and the horse trough was actually the village water source.
However the poor road saw Tim Frank puncture 4 times, Neil Flesher ruin a tyre and James Wadley puncturing and also damaging his tyre.
From a race perspective, Joe consolidated his King of the Mountain status with support from Rob.
Caroline had a very difficult time due to a cold and stoically battled on regardless. We all arrived in Matillas in good spirits and we are now all sitting around in the garden outside our Hotel. The weather is great and there is more of a holiday atmosphere than a survival of the fittest mentality.
Hannah took to the bike again today and will be riding tomorrow morning as well.
Hot off the Press is that we named the van TARDIS: Timely Arrival Relieving Distress In Spain.
We have been having a competition for the Fastest recorded speed on the ride. Andy Hore had the prize at 48mph. Today however Andy Brown, who is getting stronger by the day, recorded 49mph.
Andy Brown was also applauded by everyone during pre–dinner drinks for the route that we followed today and glasses were raised.
Day 9
Today was supposed to be a 91 mile ride however the road we intended to use was closed and we then had to add 10 miles onto the route. There are now some sore limbs which are screaming for rest and relaxation !!! I should add that some of the riders, Lionel, Hannah, Guy, Andy Brown and Tim Stevens ignored the frantic waves of the workmen stopping the cyclist and managed to get to the end of the road on the original course.
Back to the start of the day, we reluctantly left the Hostel in Matillas in waves and then rode up a First Category climb past an old Moor Castle that could have been part of an El Cid film set. Immediately afterwards we met the road closure which all but the five were forced to take a long detour on really horrible roads. This is not the fault of planning but a major investment in highways where the old roads are actually closed. It is not being done sympathetically for cyclists !!! I have never cycled on so many dirt tracks.
Andy Brown's 49 mph record came under pressure from Scott Dryburgh who recorded 49 mph to almost equal Andy Brown's 49.3mph. However just when it looked like Scott would hit the 50 mph barrier his tire exploded and he was quite lucky not to injure himself.
Meanwhile across the dirt track Rob forced Andy Hore off the road and battle resumed !
Ian, Pam and Normand again looked after the distressed as they helped Scott in the later phase of the day when he was having breathing difficulties. Caroline was also suffering and struggled through the day with a throat infection.
Lunch was just off a large roundabout on the route and the team huddled against a wall. I took pictures but unfortunately I dropped the memory card down a lift shaft as I was trying to copy the picture. Stupid and please do not ask how I managed to do it !!!
The highlights were as follows: 1. Jamie, Lionel, Guy, Tim Stevens and Mike were dragged along by a local at 27 mph which made their day a lot shorter. 2. Mike was also offered drugs when he stopped for a coffee !!! It all happens on our trips !!! 3. Andy Brown, Guy, Hannah and Lionel watched a comical episode as a car crashed into the barrier to the closed road.
When we arrived in Aranjuez we all headed to the swimming pool and leapt into the cold water… pure ecstasy !!!
The total mileage was 629 miles after Day 7 and since then we did 105 miles yesterday and another 98 for the majority today and 93 for the 5 mentioned above. Therefore the mileage is now
629 + 105 + 98 = 832 miles.
Each day we have groups of people who have realised that they are riding at similar paces and club together. There are 4 distinct groups but they do vary a little from day to day.
The ride is quite a test for us all but really enjoyable at the same time
Day 10
Day 9 was really hot with temperatures registered at 39 degrees C . Today we have seen 42 degrees C according to several team members. Whatever the number it has been a WOW day !!! It was also an 87 mile (140 km) stage in some really remote countryside. This is so different from the North of Spain.
If I can start from the beginning of the day, we were joined last night by Derek Noble and Roger Brookes. They have immediately blended to the spirit of the ride. We must immediately thank Derek for booking all the Hotel's in Spain. We have been looked after brilliantly as the attached pictures of us all in the pool this evening bears evidence.
The temperature has clearly been a causing some people concern. Some of the team have shown signs of problems dealing with the heat but we are now all okay and safe not only in the Hotel in Cuidad Real, but also in the pool.

Today we set off from Aranjuez in relays heading for the first break in Mora and then on to lunch at Fuente el Fresna. The mornings are cold and at 07.00am it is positively chilly and dark. However at around 11.00am it is hot and it becomes hotter at 12.00 noon until around 06.00pm when it begins to cool. But as we are English we mess around having coffee's and seeing beautiful village square's then complain about the heat and doing the key mileage between 12.00 noon and 16.00pm !!!!! Not that I am complaining because the country is beautiful and I lived in Italy for 10 years hence the heat is not really over-powering. See attached the picture of the team cowering for some shelter at the Day 9 lunch break. And yes a kind man at the Hotel sent the lift to the second floor, switched it off, opened the lift doors in the basement and retrieved my memory card from my camera, which you will remember floated down to the gap in the lift magically yesterday and no it was not my fault !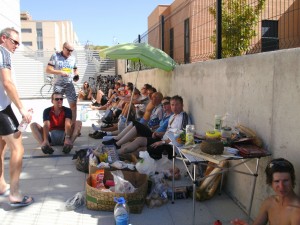 We managed to get to lunch at varying times up to 14.30pm with 22 miles to go to the end of the day and at 15.00pm there was a realisation that the Hotel had a swimming pool and could we make it by 16.00pm ? Well this is the point where the Inspired Living STIG, who cannot ever be named unlike the Motoring equivalent ! Our STIG sped out of Fuente el Fresna and look 55 minutes and 37 seconds to reach the Cuidad Real village boundary. The blistering pace was followed by all of the team with many recording over 20mph on the undulating roads.
James is riding like a superman and some have speculated that he could be the STIG !!!
In short everyone is going well and they are all in good health and fine spirits.
Andy Brown has been beset by punctures over the last two days but is going well despite the intrusions. Tim Frank is riding really strongly.
Did I hear you ask how many miles we have now covered ? Well there is a difference caused in part by some people taking detours and other not. Andy Brown and Lionel have the mileage at 903 miles plus the 33 miles for the UK equalling 936. This has had no detours. Speaking to different team members from day to day I have the total at 919 miles plus the 33 miles equalling 952 after Day 10. Either way we all agree that we will be breaking the 1,000 mile point tomorrow before lunch. This is indeed a significant milestone and is equivalent to the Land's End to John O'Groat's mileage and we will still have circa 3.5 days to go.
I must thank Anne for helping manage the Blog's and Barbara for her continued hard work to tie up the loose ends from the 4th September.
Talk to you all tomorrow.
Day 11
Today's route was 93 miles and was the hottest day of the trip so far with 42 degrees C recorded at 16.00pm when we closed in on the Hotel in Dos Torres a remote village in Southern Spain. We were told by the Hotel that the temperature had hit 44 degrees C. Our route took us out of Cuidad Real and on some very rural roads through and over really hilly countryside and the route would have been testing even if the weather had been much cooler. I suspect that the towns that we visited had not seen any Foreigners because Foreigner's would not naturally choose to follow the roads that we were directed down. It was however a very picturesque experience.
We missed the morning stop and improvised in a village on route and we finally got to Almaden. We arrived at Almaden for lunch after 65 miles. When we arrived we discovered Hannah cooking a BBQ for us all. It was brilliant and we all thanked her for her efforts. Earlier in the day when we went over the mountain range before arriving at Almaden, we passed a Police outpost with a Helicopter to attend potential forest fires. Don't be concerned ! Hannah was very careful and made the BBQ in the centre of the village in a safe area. While cooking the BBQ Hannah and Andy B noticed a car extricating itself from a car parking slot by bashing the cars in front and behind.
Pam, Normand and Ian were clapped into Almaden by hundreds of school children who thought Normand was Contador, the Spanish Tour of France winner.
We now have a new term for submission to the Oxford Dictionary and that is a 'Real Cuidad' and this is when a driver closes half the City for 20 minutes doing a 200 point turn to get the Inspired Living van out of its parking space outside the Hotel !
Tim Frank was knocked off his bike by Andy Brown after Tim had hit the back wheel of Andy's bike. There was in fact no clear responsibility with both blaming the other although it was all done in a friendly way. Andy explained that he felt a bump and suddenly there was Tim riding down a decline into a drain. Tim broke his saddle pin securing bracket but did not have any other injury. The bracket should not prove a problem to fix. Earlier in the day Andy Brown had two puncture's and Scott had a tyre explode while going up a hill (very lucky could have been another near death experience following the blow out at 49 mph) and he then needed to change both an outer tyre and an inner tube.
We also passed the passed the 1,000 mile point just after midday with great celebrations.
Mike and Stephen not happy with riding 2,000 kms decided to ride on to Cordoba, which is 200kms in the day so that they can qualify for an RRTY which is Randonnee Round The Year. Apparently you have to do 200kms every month for a year !!!!! Madness you might think. Anyway we will meet them tomorrow when they will do a shorter day and get back on track with the ride to Gibraltar.
Again all is going well and everyone is in good health and fine spirits.
Andy Brown has been beset by punctures over the last two days but is going well despite the intrusions. Tim Frank is riding really strongly.
Barnaby was at his very happiest in Almaden when after a First category Tour of France climb he stopped and ordered a very large Beer. This was a different Barnaby from the night before when someone nameless split a full glass of red wine down his trouser's. He was then seen washing them at 11.00pm in the evening ! I should add that Barnaby was riding very strongly in one of the fast groups this morning.
By my reckoning we have now covered 952 + 93 = 1045 miles.
Talk to you all tomorrow.
Day 12
Today we have had an 82 mile ride without any significant hills. Last night we toasted Andy Brown having put up the speed record to 50.9 mph having been led out by Guy Rafferty.
The day started out of Dos Torres with the rain beating down and those who left the Hotel at 08.00am/08.30am got very wet indeed over the first few hours. Those who had drunk too much the night before or who were too lazy to join the action so early in the morning started at 10.00am. This in part was due to the luxurious Hotel that had been selected for us by Derek Noble's lady. Great choice.
The latecomers Guy, Tim, Neil, Andy H, Joe, Rob, Tim Frank and myself were lucky as the rain stopped at around 10.30am. The ride was 82 miles and took us all towards Cordoba for lunch but on the way we were confronted by a White Horse which had jumped a fence. There was actually a field of white horses but rest assured the horse was re-united with its friends. The day inevitably warmed up and by lunch we were in sunshine again.
At the first stop Scott and Pam won the world Table Football championship against Derek and Ian. This was recorded on film as it was such a significant event.
The team seem to have grouped up into around 4 sub-groups which have their own set pace and rumble along happily at a sensible pace for the particular group. The speed of all the groups is quite high. We also have a 'rip your legs off ' group which changes in its make-up each day. But whether you are fast or slightly slower there is a group for you.
We have now arrived in Fuente Palmera and we are sitting watching the last 35 kms of today's stage in the Tour of Spain. It is looking likely that there will be another Cavendish win.
At this point with two days to Gibraltar and in the knowledge that tomorrows ride is going to be horrendous, we have to climb over 4,500 feet over two really high mountain ranges, I must admit that my legs ache a little and that the last couple of days have been quite tough and actually quite fast in very hot conditions. Tim Frank however seems to have found new energy and is quite invigorated. James Wadley is a true hero and has had to dig very deep at times over the last few days. He too seems to have found a new level of pain which he is happy to accept. Cycling is an odd masochistic sport !!!
Pam and Normand seem in their element as do Andy Brown and Roger Brookes, who although only with us for a few days, is an accomplished cyclist and a strong rider. Pete, Barnaby, Ian, Mike, Stephen, Caroline and David Pope are knocking out the miles happily. Guy Rafferty is enjoying the nightlife, food and wine and has found a soul mate in Tim Stevens. Lionel is riding better by the day and is always in a front group.
The lads Andy H, Joe, Rob and Neil, are happily winding down. They do really fast stretches with Guy, Lionel, Tim Stevens and myself and then stop and have a few drinks and then start hammering the roads again !!!
Today Derek Noble had a very good ride and is knocking out the miles happily.
Back to the Tour of Spain, with 11.4 km to go Cavendish should win and his team are riding brilliantly but all went wrong in the later stages but Cavendish still managed to have a single teammate shepherd him to the front to win comfortably. Brilliant riding. We will invite Mark Cavendish for our next long ride !!! Cavendish is in the Green 'Sprint' Jersey and is unlikely to lose it
Everyone has now got to the Hotel and we are happily settled in to drink a few beers.
The mileage gauge from my check around the group is 1127 miles. We now have a circa 80 mile day tomorrow which should be horrendous and really testing but barring accidents we will then have a gentle 65 miles into Gibraltar where Cancer Research are going to arrange a small reception.
Everyone is tired but all are in good spirits and good health. David Lane and Hannah Rafferty have been brilliant for all of the last two weeks and they should be congratulated.
Day 13
A small correction, yesterday we did 77 miles and not 82 miles but today was 82 miles ! Sorry.
We set out from Fuente Palmeras early in bright sunshine but that hid what laid ahead. With no official first stop we cruised down to Osuna at 39 miles of the 82 miles and stopped in a cafe and all was great, the sun shone and we were all in good spirits. However in front of us were 2 very serious climbs. As we hit the first climb heading for Almargen and the eventual lunch location of Canete La Real, which was at the peak of the first mountain, it began to drizzle. In Canete, there was a festival and the van could not park hence it went on to a remote location a couple of kilometres further on. As we climbed the Col (1st Category Climb) into Canete the skies opened and it began to rain and the rain just got harder and harder until it was like being in a cold shower. At the same time as we climbed into the clouds the temperature dropped dramatically and we were left with light summer jerseys and desperate to get to the van but the van could not get into the village and the rain was so intense that we did not want to ride the two kilometres to find it.
There were two isolated groups. The first was Jamie, Derek, Mike, David, Pete and Barnaby who were stuck in a cafe in Canete La Real. They decided to stay put and feeling really cold the waitress brought a gas fire for them to huddle around. Unfortunately they ate chicken kidneys which Barnaby regurgitated a few miles later !!! The second group was Tim Frank, Tim Stevens, Guy, Joe, Andy Hore, Rob, Neil and myself. We were so cold that we sheltered in a church being used to serve food for the festival. As my hands went purple a waiter gave me a bright orange zip up cardigan which was a life saver. Tim Frank suggested we huddled together if things got to bad !!! There are now pictures of me in the cardigan !!! Joking apart it was a really uncomfortable experience and I have not felt so extended since I did an Army survival programme some years ago.
The first group off in the morning group was Roger, Lionel, Scott which met Normand, Pam, Stephen, Ian and Andy Brown. Andy B had started with the late group but sensibly not waited at the Cafe. This group was ahead of the late nighters led by Guy and Tim F. The first group met up on the first climb up to Canete. The skies had not opened for these early birds. They reached the van and were able to have their lunch watching the lightning and oblivious of the turmoil further down the road. These intrepid warriors set off in gentle rain and were then hit by the cloud burst. Roger confided that he had been quite concerned about the lightning which was clearly very very close. Fortunately we all survived. The ride out of Canete was a violent descent on extremely slippery roads and we were all being very careful but there are always the speed merchants who cannot hold themselves back !!! We then had to climb up the second mountain to the point a few kms above Ronda our final destination. The final climb and conditions were so severe that we arrived in Ronda in very small groups.
Caroline made her own way through the rain and pluckily made it down to Ronda on her own in the rain. I am pleased to say that we all survived to fight another day and we are looking forward to arriving in Gibraltar tomorrow afternoon.
We have now cycled 1127 miles plus 77 miles which is 1204 miles. We now have a gentle 65 miles ride into Gibraltar where Cancer Research are going to arrange a small reception.
I will let you know tomorrow how it goes.
Day 14
With the last day mileage of 63 miles we will have arrived at a total of 1267 miles as we ride into Gibraltar.
This Blog is late because while WiFi is free in Spain and France, by Law, in Gibraltar it is amazingly expensive so I have waited to get back to London. The plane however showed the total distance from Gibraltar to Heathrow as 1,324 miles. This all seems correct as we took a very wiggly route down through France and Spain to avoid proper roads where possible and to maximise the number of bridle paths !!! We have actually all enjoyed the route and we all thanked Andy Brown for his hard work planning the ride.
The final day saw us leave Ronda in the general direction of Gibraltar. It was noticeable that the first sign we saw naming Gibraltar was a mile from the border and it is fair to say that there is little harmony between the Spanish and the people of Gibraltar.
We took a while to leave Ronda as we stopped by the spectacular Punto Nuevo to take pictures as hot air balloons appeared on the horizon in a quite spectacular manner. This so called 'New Bridge' was built many centuries ago and was truly awesome to see. It dropped around 100 metres. It is not a suspension bridge but built of stone arches.
We had been told that it was all downhill from Ronda to Gibraltar but that was another lie !!!!! We climbed dramatically to over 1,400 metres from Ronda at 665 metres and then we went down to sea level. The climb out of Ronda was very dramatic and we were treated to unbelievable views across the valleys.
Hannah excelled on the bike and rode all the way over the mountains leaving her father struggling in her wake. Well almost !
There was a 'last day of school' atmosphere as people ambled through the mountains taking every possible opportunity to take coffee on the side walks or pictures of the awesome views. There were no punctures or crashes, no spectacular incidents to report just a pleasant cruise up the mountain to lunch and a leisurely ride down to the border. Everyone arrived safely in Gibraltar and in good health and great spirit.
At the border the Police awaited to escort us to the Sports Centre for food and Mira, the Chairwomen of Cancer Research Gibraltar, met us and marshalled the police and guided us to the Sports Centre where the Minister for Culture and Sport met us and hosted us to Paella and beer !!! Speeches were made and it was an emotional scene. The architects of the trip, Tim Frank with his friends Guy Rafferty and Lionel Jones, who founded Inspired Living, led us into the reception. See the photo's. To the left is Tim, Lionel and Guy. Below is a picture of Tim with the Minister and Mira.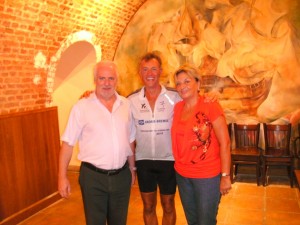 Hugs were universally exchanged and it was clear that the group had bonded well despite the enormous array of personalities.
Late night activities saw Rob a little under the weather from alcohol and having lost his passport which we believe to have been left in the bag on his bike which was on route back to England when we realised that we had a problem. Fortunately luck was on our side and Rob managed to talk his way onto the plane and into England at Heathrow ! Would you believe that he travelled over 1,300 miles without his passport and got into the UK !!!!
It was a great two weeks and we will all miss each other tomorrow.
Brilliant adventure and great to know all the participants, David and Hannah and all of you who have followed our adventure.
Best wishes to you all.
The End
Everyone is now back home from the Continental ride, and are resting & recovering from the experience. The photos will be gathered together and shared soon, and the total amount raised will be calculated as well.
Here are the riders arriving back in the UK