In support of Cancer Research UK, Inspired Living are pleased to announce the launch of their 2014 continental ride – Melksham to Monte-Carlo!!!
51 Riders will depart on Thursday 28 August cycling through France for the next 9 days and arriving in Monte Carlo on the afternoon of Saturday 6 September, an average of 85 miles per day.
The ride will be fully supported allowing the riders to travel light with their luggage transported in our support vehicles. Every day the support team will set up rest stops after approximately 30 and 60 miles where riders will be provided with food and drink.
You can find out more about this ride on the Continental Ride page.
The riders will be covering their own costs of the challenge, or are being funded by their employer, enabling individual sponsorship to be donated to Cancer Research UK.

We will be organising some training in the run up to the ride. See Latest News to keep up to date.
Inspired Living was established in July 2009 by Tim Frank and friends. Its current primary aims are as follows:
To inspire ordinary men & women to adopt healthier lifestyles in order to reduce their risk of contracting cancer.
To raise £1 million for Cancer Research UK.
Previous Activities
Cycle4Life
We have run two very successful charity day rides in 2010 and 2011. Cyle4Life was originally designed for families to have a great time exercising whilst enjoying a gentle trip through some of Hampshire's beautiful scenery. However, in 2011 we also encouraged the enthusiastic and hard core cyclists to get involved, thus attracting riders of all ages, levels and abilities to take part and raise funds for CRUK.

Cycling through Hampshire
In 2010 we cycled from Winchester to Gibraltar, and in 2011 we went from 'Top to Toe' in Italy. In 2012, 31 riders cycled through 9 countries in 9 days whilst covering over 900 miles from Winchester to Venice.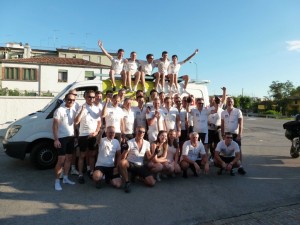 The 2012 999 riders on reaching Venice.

The members of the Italy 2011 Top to Toe continental ride gathered to get in some training.

The Winchester to Gibraltar 2010 riders on their way home.